See it clearly, Leukomed® T. For secure transparent fixation.
Description
Leukomed® T secures cannulae, compresses and other medical aids, making them waterproof and bacteria proof. Non-secreting wounds are also carefully protected from friction and shear. Good visibility at all times.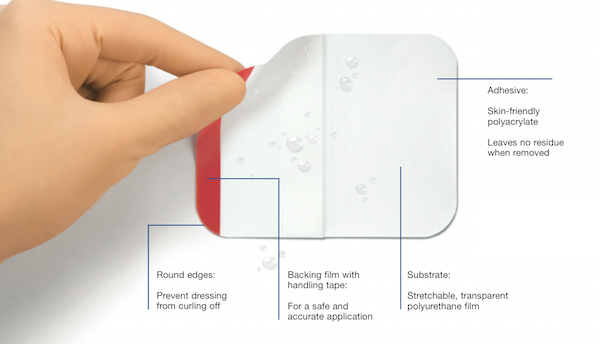 Indications:
For protecting non-secreting wounds
For the waterproof fixation of intravenous catheters (peripheral or central)
Provides effective protection from water and bacteria.
Leukomed® T is sterilized, individually sealed, and reliably covers the wound.
The transparent polyurethane film of Leukomed® T is waterproof and bacteria proof.
Leukomed® T is permeable to water vapour and oxygen.
Supports patient mobilisation.
Leukomed® T allows the patient to shower or bathe.
Facilitates wound inspection.
The transparent film dressing keeps the wound visible without dressing changes.
All-round suitability for covering non-secreting wounds.
Leukomed® T is radio transparent.
Easy to use, allowing quick dressing changes.
In six handy sizes.
All are available in two pack sizes.

Leukomed® T and Leukomed® T plus are easy and quick to apply.
Hold the wound dressing at the red handling tape. Then remove the top layer of release paper.
Using the handling tape, the transparent wound dressing can be applied accurately to the wound. Now remove the second layer of release paper.
Carefully press the transparent film onto the skin, especially around the edges. Full skin contact ensures that the dressing is waterproof and a bacterial barrier.
Now remove the application film in one go using the red handling tape.
To remove, pull off the film dressing evenly using one of the edges – painless and gentle on the skin.